Invité
Invité

(f/libre) mandy moore, Mar 20 Fév - 22:35
---
---
Mandy Moore
et une liaison peut tout détruire.



trente trois ans.

10 avril.

New Hampshire.

actrice.

divorcée.

orientation sexuelle

show me the scary parts

Le seul point important est la relation qu'elle a eu avec Milo. Il faut donc savoir qu'ils se connaissent depuis huit ans. Lors d'un

drive-in

exceptionnel pour la rediffusion d'un ancien film. Projet caritatif où les célébrités étaient conviés, ils ont partagé la même table par la suite, lors de la réception pour clôturer cet événement. Ils se sont aimés, ils se sont mariés, et ils ont eu une petite fille qui a désormais cinq ans. Mais les choses changent, l'amour s'efface, et quand Mandy a trompé Milo lors d'une soirée trop arrosé, les choses se sont envenimées. Pour le reste, c'est à votre guise en respectant les critères principaux de l'actrice.  



       


who are you in the dark?

Si tu lis ceci, c'est que tu dois autant aimer Bec' & Jack Pearson que moi.  

Alors,

l'avatar

n'est pas négociable. Parce que Mandy et Milo sont beaux à l'écran, que je ne vois qu'elle pour incarner ce rôle, et que malgré le divorce, il peut se passer beaucoup de choses.  

En ce qui concerne la

présence

je ne demande pas la lune. Je suis moi-même très occupée, passant le baccalauréat à la fin de l'année et ayant un job étudiant à côté. Je demande une réponse par semaine, tout de même, et une personne qui s'investie un minimum sur le forum. De plus, une personne qui aime les mps, j'aime bien l'harcèlement, tout ça, tout ça.  

Le

lien

n'est pas négociable. En tout honnêteté, je ne sais pas ce que ça peut donner, hormis beaucoup de drame, parce que c'est ça qui est bon.

Peut-être qu'il va se repasser quelque chose entre eux, peut-être pas, tout en sachant que tu auras un lien d'office avec

Emma Watson

.  

En ce qui concerne le

rp

, tant que tu respectes le nombre de lignes, et que l'orthographe est bonne, moi ça me va.  

     
milo ventmiglia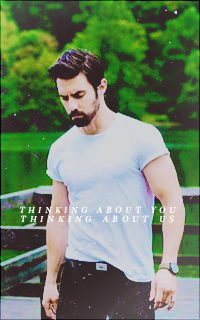 Au début, c'était beau. Ils souriaient quand ils se retrouvaient dans la même pièce. Dès qu'ils pouvaient, ils frôlaient leurs doigts, cherchant un contact physique. Ils étaient beaux. Et puis, un jour, tout a changé. Ils ont arrêté de chercher ce contact, ils s'embrassaient plus par habitude que par envie. Leya a commencé à grandir, et ils ont fait abstraction, venant rare les moments où ils faisaient l'amour, où ils rigolaient comme des enfants. Puis, Mandy est allée voir ailleurs. Et là, le conte de fée s'est achevé. Désormais, Mandy Moore-Ventimiglia n'est devenu que Mandy Moore, et rare se font les fois où ils se voient en dehors de la série. Mais au fond, personne ne sait vraiment comment ça peut se terminer, personne ne sait de quoi demain est fait.
Invité
Invité

Re: (f/libre) mandy moore, Sam 24 Fév - 0:46
---
---
Paraîtrait qu'on m'attend ?
Invité
Invité

Re: (f/libre) mandy moore, Sam 24 Fév - 0:47
---
---
OUIIIIIIIIIIIIIIIIIIIIIIIII fjggiojgopgopgij
j'ai fait un bond
je t'attendais avec grande IMPATIENCE

omg.


Invité
Invité

Re: (f/libre) mandy moore, Sam 24 Fév - 0:49
---
---
j'avoue, quand j'ai vu ton scénario j'ai pas pu résister, il est beaucoup, beaucoup, beaaaaaucoup trop parfait!
Invité
Invité

Re: (f/libre) mandy moore, Sam 24 Fév - 0:49
---
---
j'suis hyper heureuse parce que je t'attends avec tellement d'impatience
administratrice ✩ she lusts for the kill.
PASSEPORT
arrivée à nyc

:
16/01/2018
nombre d'interviews données

:
596
crédits

:
morrigan (av) tumblr (gifs)

Re: (f/libre) mandy moore, Dim 25 Fév - 13:55
---
---
scénario pris.
_________________
girl you're my beautiful my lady a red silhouette hotly rock n' roll on this night when everyone is sleeping, i will do a secret dance with you and fall asleep
(c) P!A

Re: (f/libre) mandy moore,
---
---