Invité
Invité

(m libre) dominic sherwood, Dim 18 Fév - 16:13
---
---
dominic sherwood
supernova



28 ans

06 février 1990

Royal Tunbridge Wells, Kent

Acteur, mannequin, chanteur, guitariste

c'est compliqué

hétérosexuel

show me the scary parts

+ Il est né en Angleterre.

+ Il est allé dans une école d'arts dramatiques

+ A la fin de ses études, il est brièvement allé au Kenya, pour y travailler pendant six mois.

+ A son retour, il est parti s'installer à Londres.

+ Il a passé une audition pour jouer un rôle récurent dans la série Game Of Thrones, mais c'est son ami Will Tudor qui a eu le rôle.

+ En 2013, il joue dans le film Vampire Academy, aux côté de Zoey Deutch.

+ En 2015, il apparait dans le clip de la chanson Style de Taylor Swift (environ 2 ans avant ça, il avait avoué dans une interview être fan de TS)

+ En 2016, il décroche le rôle de Jace Wayland dans la série Shadowhunters. Il a été le premier à être casté et c'est grâce à lui et à l'alchimie qu'il a eu naturellement avec Kat Mcnamara qu'elle a pu jouer Clary.

+ Il est atteint d'Hétérochromie, ce qui veut dire qu'il a un oeil bleu, et l'autre qui est à moitié marron/moitié bleu.

+ Il est sorti pendant plus de trois ans avec l'actrice Sarah Hyland, qu'il a rencontré sur le tournage de Vampire Academy, mais leur relation s'est terminée il y a quelques mois maintenant.

+ Il est mannequin et a fait quelques publicités

+ Il sait jouer de la guitare (c'est lui qui a appris à Sarah comment en jouer d'ailleurs) et chante aussi. Il a d'ailleurs sorti quelques morceau qu'on trouve facilement sur Youtube par exemple.

+ Il adore les animaux, et a adopté un chat appelé Rajah.



       


who are you in the dark?

Ah que coucou

bob

toi!

Si tu es arrivé jusque là, j'espère que c'est parce que mon petit scénario te plait! Franchement, n'hésite plus et inscrit toi, qu'on fasse des bébés et qu'on mange des cookies! Surtout qu'il y a plein de liens déjà présents pour toi sur le fofo, c'est pas beau la vie?  

avatar

: Dominic Sherwood, of course!  

présence

: Je ne demande pas quelqu'un qui soit là H/24, forcément! Je ne serais pas sur le forum tout le temps non plus, mais je ne suis pas contre un petit coucou dans la semaine (j'aime les mp aussi  

) ou un peu de chat box, why not?! Question rp, je ne suis pas difficile non plus, je pense qu'un rp par semaines / 10 jours, passe crème. Après tout dépend de l'inspi et de mon humeur, mais je peux aller jusqu'à rp plusieurs fois par semaines  

 Question lignes, je privilégie la qualité à la quantité, donc pas la peine de faire 100 lignes si on a réellement besoin de n'en faire que 15 ou 20  

lien

: Bon, j'vais pas mentir; ce sera un lien

love

. J'adule le couple Clace, ce sont mes bébés  

 Bien sûr, ils ne sont pas encore réellement ensembles et ça ne va pas se faire en 2 jours, mais ils ont beaucoup de choses à vivre tous les deux  

rp

: Comme je l'ai dit plus haut, je privilégie la qualité à la quantité. Pour la fréquence des rp, 7 à 10 jours, mais plusieurs rp par semaines me va aussi: on verra suivant l'humeur et ce qu'il se passe irl, of course!
Katherine McNamara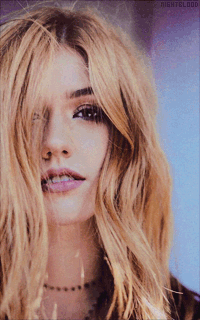 Dominic et Kat se sont rencontrés pour la première fois lors des essais de Kat pour jouer le rôle de Clarissa Fray, dans la série Shadowhunters. Bien qu'il y ai pas mal d'actrices talentueuses en course pour le rôle, le courant est en fait carrément bien passé entre Kat et Dominic. Une alchimie immédiate que personne n'a pu renier et Kat a donc eu le rôle. Ils n'ont vraiment pas tardé à devenir amis: Dominic était d'ailleurs toujours le premier à taquiner Kat, et prenait un malin plaisir à lui faire peur en sachant que n'importe quel bruit un peu sourd peur la faire sursauter. Ils sont très proches, mais ce n'est jamais réellement allé plus loin, forcément. Après tout, Dominic était en couple et apparemment parfaitement heureux. Mais Kat a toujours eu ce truc, cette attirance pour Dominic, qui n'a fait que s'intensifier: bien que lui ne montrait pas d'intérêt "amoureux" pour elle, il y avait un truc quand même, c'était indéniable. Mais Kat n'a jamais rien tenté, par respect pour Sarah et Dominic aussi: alors telle Simon avec Clary, elle s'est contenté de continuer à vivre. Mais aujourd'hui, Dominic n'est plus avec Sarah, et est de nouveau libre. La question reste entière: Dom a-t-il des sentiments pour Kat? Vont-ils se décider à sauter le pas?       
Matthew Daddario
Parabatai dans la vie comme à l'écran, Dominic et Matthew sont très proches depuis le début du tournage de la série. Que ce soit devant ou derrière la caméra, ils rigolent bien ensembles, partagent les mêmes délires et il n'est pas rares qu'ils passent des journées off tous les deux, ou en compagnie d'autres acteurs de la série. Ils s'adorent et Dominic soutiendra toujours Matt dans ses choix, quoi qu'il arrive. Et vice versa. Tout comme Alec et Jace, ils sont comme des frères, aussi possessifs et protecteurs l'un envers l'autre. Il leur arrive de se disputer, de se prendre la tête mais ils finissent toujours par revenir l'un vers l'autre, quelques minutes plus tard. Oui, ils sont comme des frères. Des parabatai.
Harry Shum Jr
Harry et Dominic sont avant tout collègues de boulot, mais ils sont également devenus amis. La série les a beaucoup rapprochés, comme pour beaucoup d'acteurs: ensembles, ils sont un peu comme une famille. Aussi, Harry ayant beaucoup d'humour, il se ligue parfois avec Dominic pour faire des blagues à Katherine qui la pauvre, encaisse sans broncher: mais dans le fond, ça l'amuse beaucoup aussi. Dominic et Harry sont donc amis, ils se respectent beaucoup et s'entendent bien: puis ils sont un peu partners in crimes du coup aussi.
administratrice ✩ the girl who cried wolf.
PASSEPORT
arrivée à nyc

:
16/01/2018
nombre d'interviews données

:
378
pseudo

:
P'titbou (Aurore.)
crédits

:
endlesslove (signature) ; camilacmendes.tumblr (gifs) HOODWINK (avatar)

Re: (m libre) dominic sherwood, Dim 18 Fév - 18:38
---
---
scénario pris par @Dominic Sherwood
.
_________________
"i think my heart is better"
give me love like never before, 'cause lately I've been craving more and it's been a while but I still feel the same, maybe I should let you go. ♛ by endlesslove.